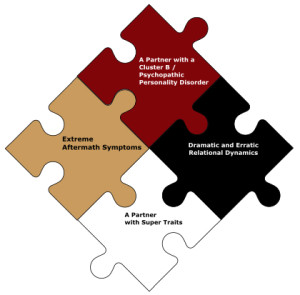 What is the Living Recovery Program?
The Living Recovery Program is an Institute for Relational Harm Reduction comprehensive and affordable approach to recovery from a Pathological Love Relationship (with a Cluster B/Psychopathic partner).  Utilizing our Pathological Love Relationship Puzzle approach, we help you through the puzzling maze of pathology and its aftermath.
We know that your symptoms are life altering, that your time is limited, and that he's likely to have wiped you out financially, emotionally, and spiritually.  To reach out to our survivors who are serious about creating a life that is pathology-free and aggressively recovery-oriented, we have developed a weekly approach to an on-line 'crash course to recovery' that offers trauma-specific help through a cost effective and affordable intervention that is sure to bring relief.
What's all in it?
The Living Recovery Program (LRP) is an annual program consisting of 48 Lessons with educational and guided recovery topics, tips, techniques, resources, and helpful tools delivered in an online, self-study course which you can access from the comfort of your home and in whatever time frame is most convenient for you.
To begin with, Lessons include topical discussions on pathology and the relational dynamics, your personality traits and aftermath symptoms, and recovery. Most Lessons include:
A topical discussion on the subject matter covered in the Lesson materials.
Trauma-specific articles describing clinically appropriate understanding of various personality disorders/psychopathy and identification of the relational dynamics which harm you.
One of The Institute's Relational Harm Reduction Blog Talk Radio shows focused on pathology educational information and symptom management, or other appropriate audio or video presentations relevant to the subject matter. ($144 value)
Worksheets, hand outs or tools specific to Pathological Love Relationships which include assessments, check lists, and other self-identifying work sheets. ($96 value)
Some lessons include references to a multitude of on-line resources that are clinically appropriate to the topic under discussion.
Are there other elements to the LRP?
YES! Throughout each Semester, Sandra L. Brown, M.A., founder and CEO of The Institute, hosts a monthly 45-minute tele-conference call for current students to ask questions about the Lessons provided in that month. ($150 value)
Actively enrolled students are invited to participate in our closed (secret) facebook group, a community that facilitates continued discussion, mentoring and support among others who are also walking the same path and truly "get it". Sandra frequents the group on a regular basis so there's even more access to her invaluable insights and guidance. Upon completion of the course, participants may be invited into our large closed (secret) facebook group for continued discussion with and support from veteran survivors — and, again, Sandra also participates in this group.
These ancillary services provide much needed support and opportunity to have YOUR questions answered. Your voice is heard, your concerns and issues understood, and you get the validation you need along with knowing that you are among others who truly understand what and how you're feeling. It's one thing to have access to educational materials — but a whole new level of how to put that material into practice in your everyday life. And that's exactly what you'll get in the monthly calls and the facebook support group!
How does it work?
The complete LRP is structured as an annual program that progresses through a total of 48 lessons, plus preliminary requirements and pre-course informational tutorials. New lessons are released on Friday of each week over the course of 48 weeks and can be accessed at any time. (Be sure to create a bookmark for easy access to the on-line course!)
Enrollment for the next class beginning in July is now open and will close on July 7.

How will the Living Recovery Program help me?
If you are committed to working on your recovery, you will find that this is the only program out there that addresses the specifics of the aftermath that comes from having been in a PLR! Other programs do not take the same approach – which is trauma based therapy – and that identify the specifics of WHAT you're experiencing, WHY you're experiencing it, and HOW to heal in order to find peace and rebuilding your life.
Other programs suggest a recovery that is based simply on 'no contact' and 'breathe', which is far from all that is necessary to calm your symptoms and get your life back. Our model-of-care, based on science, research, and more than 30 years of experience with this specific genre, addresses every single aspect of the symptoms and experiences in the aftermath with which you are plagued. There are virtually no other sources and/or resources that offer the depth and breadth of recovery-oriented guidance that will lead you to recovery like the LRP does. Our approach has been used by thousands of women and, as such, has been proven to work — and work well!
While you can complete the Lessons at your own pace, we urge you to actively work through your Lessons in order to continue making progress in your recovery. Whether you do a little each day or "binge" once every couple of weeks or every month is entirely up to you, but the only way you will recover is to keep at it. And staying active in the Lessons will also help you in flushing out questions you may have which will maximize your use of the support that is available to you while you are in the program.
What do others who have already participated in the LRP have to say about it?
"I'm a 7-year veteran and have used all of the Institute's products and services. The LRP didn't exist when I was working my recovery, but I'm very familiar with it and all I can say is that it pretty much rolls into one what is covered at retreats, in tele-counseling, and the printed materials, Newsletters, website, radio shows, etc. The model-of-care for the Institute's treatment programs is like none other that's out there in that no other approach is as thorough and life-altering in achieving full recovery from the aftermath's despair in the pits of hell. If it weren't for having found the Institute and Sandra's work, I don't think I'd be here today." JM
"I had to stop visiting the various social media sites because the constant exposure to other people's trauma kept triggering my own. I didn't know where to turn until I found the Living Recovery Program. The clarity this online class has provided for me and the clear and concise way you explain the steps for healing has been life changing. Thank you for helping me get my life back!" AC
"I'm in the third Series of the Living Recovery Program and it has changed my life! It has opened my eyes to what really was, and is, happening, while helping me re-build from ground zero who I truly am!" AM
"The Living Recovery Program's downloadable tools help to calm me down, recenter and get grounded again. Knowledge is Power! And this knowledge is the foundation of my recovery…knowing better and better who and what I was dealing with, and how the PLR affected me, both during the relationship and now in the aftermath. The LRP has given me a well-trodden path to walk toward healing and recovery. Because of this great program I am now doing things which are having a HUGE impact on the healing of my nervous system. Between that and the self-soothing tools I have gotten from the LRP, I am experiencing a steady decrease in my PTSD symptoms. I can't begin to express my gratitude for putting together this life-saving and affordable program." SR
"After my break-up, I was left emotionally shattered and I could not understand why I wasn't getting better, why I had constant intrusive thoughts, and why I could not put this particular relationship behind me. While trying to make sense of a senseless situation, I was introduced to the work of Sandra Brown. It was as if a light had finally been turned on in a dark room. Her book Women who love Psychopaths explained everything including the behaviors, quirks and red flags that I overlooked, ignored and re-framed. And now, with the Living Recovery Program, finally everything is falling into place! My endless stream of thoughts can be channeled and all my symptoms are understood and quieted because of the tools and techniques provided in the classes. Thank you, Sandra, for your life changing work." AS
"The Living Recovery Program is worth its weight in gold! It is not a review/rehash of the story details from a bad relationship and breakup, but, instead, a clear and well laid out explanation of how and why women get into these pathological relationships, why leaving them is so difficult, and the damage that is caused by them which continues beyond the end of the relationship. As if all of that were not enough, the course also provides practical, doable steps for reclaiming your life, unraveling the aftermath and, ultimately, healing. I highly recommend the Living Recovery course to survivors, Law Enforcement, anyone in Family Law/Family Court venue, mental health counselors, Child Protective Service and social workers, and anyone who works with victims of Domestic Violence. Thank you, Sandra Brown, The Institute for Relational Harm Reduction and your team, for the creation of this beautiful course with the ultimate goal being recovery."  MB, survivor/thriver
What does all this cost?
Enrollments are for the full program presented in a monthly subscription format to make it even more affordable.
The total retail value for products and services provided in the LRP, if purchased separately, is nearly $1,800. We have packaged these products and services into the affordable subscription price of only $33 per month. 
The total cost of the program is $396 and supports you for one-year. Sounds like a long time doesn't it? But recovery from a PLR is like no other breakup and it takes time to work through all the various facets of healing and recovery. For that year, you will have the opportunity to interact with other survivors who are also in the LRP, the incredible insights from Sandra herself, the knowledge of veteran survivors to guide you with suggestions based on what worked for them in their recovery, and, equally important, the understanding of others who have been down or are on the same path — those who truly "get it".
How do I enroll?
The next class begins in July, 2017 and enrollment is now open. Pre-course requirements and introductory tutorials are accessible before the class begins.  Simply click on the "Sign me up" button below and follow the prompts.
Don't delay – Registration and enrollment closes July 7.

Refunds – the Living Recovery Program
The Living Recovery Program is a GUIDED progression of education with our model-of-care elements that will help survivors practice self-care and recovery techniques.
Some of the material should sound familiar to you as our model-of-care is explained in our other materials. The additional discussions in each lesson (Introductions) combined with other materials and links to audios and videos, as well as the monthly tele-conference calls guide you through a more in-depth study. The introduction to each lesson correlates the relationship that pathological behaviors have on the survivor, your symptoms, your brain, etc. These are NOT conclusions that will be drawn by most people by merely reading our other material.
Some of the material, particularly in the first few Lessons, is intended as review to delve more deeply into principles associated with the concepts. Each progressive set of 12 Lessons continues to unpack more materials, links to entire manuals, techniques, worksheets, assessments, etc. that are not otherwise available on our website or in other materials.  To get the more indepth materials, you will need to stay with the entire program since it is progressive and builds off concepts that are presented in the first few Lessons.
Because of the subscription format which provides access to the online class and platform on a monthly basis, we cannot issue refunds that have already been paid since you have access to that month's Lessons as they are released. However, you are under no obligation and may cancel your subscription any time you choose.