Treating the Aftermath of Pathological Love Relationships
** Coming soon as an online training in a 4 part series.
---
The Institute's Model of Care Approach for Pathological Love Relationships with Cluster B Disordered Partners
The Institute will be offering licensed mental health/addiction professionals as well as Domestic Violence Staff  the ability to become trained and certified in The Institute's Model of Care for Pathological Love Relationship Survivors.
Segments include The Institute's Grounding Theory of Pathological Relationships based on our new upcoming book related to the principles of The Institute's Puzzle Pieces of Pathological Love Relationships ©. The concept is built on a foundation of 4 puzzle pieces that describe the elements and results of a pathological love relationship.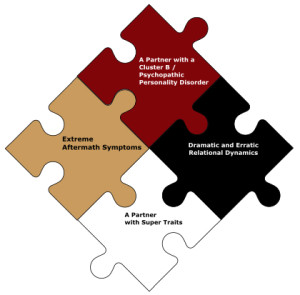 Puzzle Piece #1: A Partner with a Cluster B / Psychopathic Personality Disorder – The basics of pathology
The Permanence of pathology and its relationship to Cluster Bs
Etiology of pathology
The types of pathology that are dangerous in relationships & The Three Inabilities©
Neuroscience of Cluster B disorders
Puzzle Piece #2: Dramatic and Erratic Relationship Dynamics – Pathological love relationship dynamics
His multi-partnered relational process
Dichotomous dynamics and the Jekyll & Hyde phenomenon
The use of suggestibility, trance, and hypnotic inductions in relationships
Attraction, bonding & intensity
Historical relational patterns of selection
Puzzle Piece #3: A Partner with 'Super Traits' – The impacts of personality
How personality impacts relational dynamics
How personality impacts attachment, bonding, and disengagement
The Institute & Purdue University's research findings on Super Traits and Pathological Love Relationships
Trait elevations & risk
Original trauma and impact to self-perceptual injuries
Super Traits and their effect on relationship selection & relational targeting
Puzzle Piece #4: Extreme Aftermath Symptoms – Therapeutic interventions & psychotherapy processes
PTSD
Treatment issues related to PTSD
Patient self care and PTSD approaches
Super Traits & treatment impact
Cognitive dissonance and its connection to pathological love relationships
Specific patient approaches/Model of Care treatment for crisis, short term, and long term treatment
To get more information about the online training
If you are interested in taking the online course when it is released and wish to be added to our waiting list, please email Training for Professionals via the Contact Us form in the right hand sidebar. Course information, dates, prices, how to enroll, etc. will be posted on the website when it becomes available and those on the waiting list will be informed that the course is open and detailed information has been published.
To get more information about private training for your organization
If you would like to request private training for your organization, email us through the Contact Us form using the Organizational training option. Specify that you are interested in private training for your organization, your desired time frame, and complete contact information including your name, the organization's name, and a phone number where we can reach you.
To get more information about the development of a professional Association
The interest in both providing services and acquiring education has been growing in a new and emerging genre of counseling and training on the dynamics of Narcissistic & Psychopathic Victim Syndrome. To learn more about the professional Association which is currently in the preliminary development phase…