What IS the Dangerous Man Book?
8 Categories of Dangerous Men
Signs and Symptoms
Red Flags
Checklists
Your Own Sabotaging Behaviors
Why Women Date More Than One Dangerous Man
The Profiles of the Women They Seek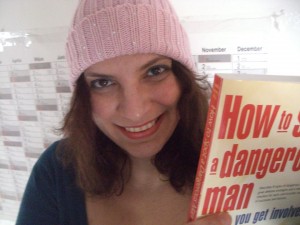 Recommendation by Steve Garufi, LPC from Cairn Counseling
Book Review by WomensSelfEsteem.com
Book Review by Fitnessbookmix.com
Also included are recommend books and clinical references for those that might like more education on the victimization topic.
GirlfriendBooks.com's Interview with Sandra

GirlfriendBooks.com recently wrote an article about the book and interviewed Sandra.  Here is the lead-in from the article:
Attn: Single Women
Before that date tonight, you might want to head over to the bookstore and read up on who you could be meeting: a Dangerous Man.  Sandra L. Brown, M.A., will tell you all about him in How to Spot a Dangerous Man Before You Get Involved.
Although we are a married bunch here at Girlfriendbooks, we still clearly remember our single days. Luckily, we managed, without this book, to marry non "dangerous" men; although now that we reflect, we are quite certain a few of these "dangerous" men crossed our paths.  (It definitely explains one heartbreak in college.)
To our single girlfriends, do yourself a favor, and read this book.  This is not your average self-help.  Sandra L. Brown, M.A. knows from years of experience what she is talking about.  She could save you from intense therapy, or, possibly, save your life.
– Read the rest of the article including the interview with Sandra
Listen to an Audio Excerpt

Click here to listen to Sandra read the book introduction.
Order Information
How to Spot a Dangerous Man
print book
$14.95 + shipping and handling

OR

buy the Dangerous Man Gift Pack…
How to spot a Dangerous Man
plus
the companion workbook
print book
$28.00 + shipping and handling