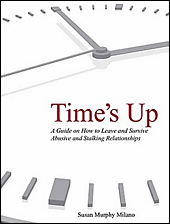 by Susan Murphy-Milano
How you can escape a violent relationship and get out with your life.
You can actually live free from a life of abuse and violence using creative approaches developed by Susan Murphy Milano in her new book, "Time's Up!"
You can't Google the strategies and escape plans utilized by Susan who has devised a way that works and has been tested by time for over 20 years. Just like DNA, your road map will be uniquely your own because each safety plan is individual.
More than just a "to do" list, this book is a "must do" list if you are caught in a life threatening situation.
How to properly hire a lawyer
How to find an apartment
How to keep your personal records safe
How to deal with stalking
How to set up visitation and child support
How to stay 10 steps ahead of the abuser
Susan Murphy Milano has been in the streets and shelters helping women escape from bad relationships and has developed creative ways out of frightening situations.  There are domestic violence organizations and advocates who call on Susan daily to get her expert opinion on cases of battered women and how to get them on a track of freedom and safety.
Previous books, "Defending Our Lives" and "Moving Out, Moving On" are benchmarks dealing with issues of domestic violence safety plans and are used throughout the country as examples of what to do should you be caught in a violent relationship.  "Time's Up!" uses the foundations and helps you to build your own, unique safety plan allowing you to escape safely and rebuild your life.
Quantity:
1
Format:
e-book
Price:
$18.75